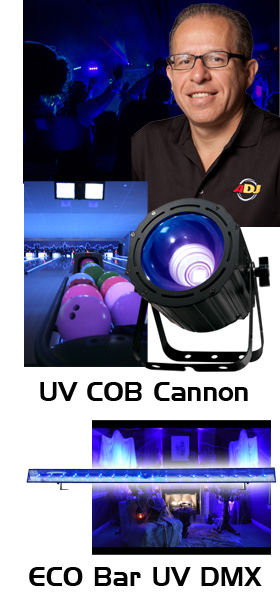 Ask Alfred
Get Ready For a Revolution
UV Is Back – And It's Bigger And Brighter Than Ever!
If you thought UV was a technology of the past then think again, because ADJ are leading the way with two exciting new products: the ADJ Eco Bar UV and the revolutionary ADJ UV COB Cannon.
Ravers have been enjoying UV parties for years and these events remain popular in venues world-wide. With similar longevity, UV is used extensively in theatre and is still a staple effect for mobile DJs and clubs alike. I guess there's just something inherently amusing about seeing your friend's teeth glowing denture-white and your T-Shirt radiating a luminous purple not dissimilar to the exotic cocktail you just bought!
But UV is now being embraced by the new generation of EDM clubbers. Every year, young people across the world head to party spots to dance themselves silly. I saw some incredible videos filmed on the Greek Island of Kavos during last summer and the latest craze over there is UV parties where the whole crowd sprays UV paint everywhere. It's totally crazy – the whole club is covered! – but it looks like so much fun. I can just see it now: nightclubs across the States fitting our new ADJ COB UV Cannons and the paint being sprayed all over the crowds of dance-crazed EDM clubbers – there are some wild nights ahead! Oh to be young again! Hang on… I am, aren't I?
The big advantage for venues looking to invest in the new super-bright COB Cannons is that fewer fixtures are required to cover the same area – compared to traditional UV guns. Meanwhile, the new Chip On Board technology has resulted in major advances not only in terms of brightness, but also the size of UV fixtures. No longer do you need a huge bucket sized UV cannon to get a huge amount of light; your UV fixture can be positioned anywhere in the club whilst providing a bright light perfect for illuminating dancers, and possibly UV paint! The super-sleek COB UV will sit neatly in any rig and, with on-board DMX and thoughtfully placed power and DMX sockets, control and installation are a breeze.
Another advantage of LED UV technology is increased lamp life. In the past UV cannon lamps were notoriously fragile and expensive to replace – they've even been known to explode! However the UV COB Cannon's LED source is more robust and boasts a 25,000 hour average lamp life, which means it should never need to be replaced. Plus, you can get more control of the LED DMX controlled UV fixtures over the old school florescent versions. Now you can control dimming and strobing, allowing for even more excitement!
It's not just clubs that can use LED powered UV fixtures for enhanced atmosphere. Bowling Alleys are also installing ADJ UV fixtures alongside UV-active balls and décor to add wow-factor to night-time games. Many mobile DJs are also harnessing the power and simplicity of LED powered UV effects, either as a background to their other lighting, or as the main effect for themed glow parties at High Schools and Colleges.
Now, at ADJ we are always listening to customer feedback – you asked for a DMX solution to the ECO UV Bar and guess what? You got it… The latest addition to our UV Range is the ground-breaking ECO UV Bar DMX.
Our original ECO UV Bar set the standard for LED powered UV strips when it was launched a couple of years back and now, with added DMX on board, it gives increased user flexibility and ultimate control. Imagine being able to switch on UV, as and when you need it, as part of your light show!
18 3-watt LEDs pump out an incredible amount of pure UV light sure to add excitement to any dance-floor. And, as with any of our LED bar fixtures, there are multiple ways to hang, stand and show off the ECO UV Bar DMX.
While ever there are clubs and parties there will always be UV, and with ADJ's innovative new products it seems the future of UV has never looked brighter!