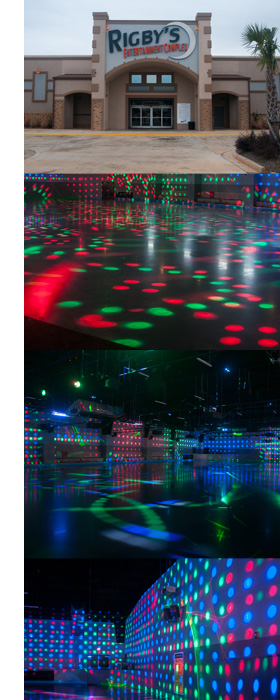 Taking Pure Lighting Excitement To Rigby's Entertainment Complex - ADJ Provide More Than Products – We Provide Solutions!
Here's what can be achieved when you combine vision, awesome teamwork and innovative products.
The ADJ family is wide-reaching and we are proud to say that we work with some of the most talented professionals in the business. So, when Steve Rigby, owner of Rigby's Entertainment, in Warner Robins, Georgia, wanted a roller rink and entertainment complex like no other – ADJ reached out and delivered.
We started by teaming up roller-rink specialists (and ADJ dealer) Rolling Entertainment with Cee-Reel Concepts, the custom design and installation specialists, and then we completed the line-up by bringing in designer and ADJ rep, Matt Wisdom. This formed a solid project team, capable of realizing Steve Rigby's dream.
The Rigby Entertainment complex is a colossal space; a paradise of fun which features bowling, in-line and quad skating, two-story laser-tag, video and redemption games, a restaurant, and a food court. In total, over 120 ADJ Group of Companies fixtures have been installed, ensuring our lighting products meet Steve's unique vision while keeping his business ahead of the competition.
Our favorite part of the installation has to be the REVORINK (a name we adopted during the project!) which features fourteen of our bestselling REVO 4s, controlled in a programmable low-res video matrix using an Elation CompuShow DMX-control software system. Twenty-four Quad Gems bounce light around the floor and the REVO 4s spray the walls with an explosion of light and color, meaning that 100% of the 'roller rink real estate' is covered with dynamic lighting effects. Added to this are a variety of lasers, strobes and LED lighting effects, to ensure that the atmosphere is constantly evolving and the energy is always high. The rink features twelve Freq16 strobes hung linearly along its sides to create a variety of effects, including a runway chasing up and down the rink, regular strobing, and random sparkles of flash – like the paparazzi have turned up to catch you falling over on camera! The flexibility of the Freq16 strobes also adds the option of incredibly bright work-lights and a dimmable white-light source; ensuring a reasonable overall level of ambient light and brightness while other effects are being used.
Allowing for future adaptability, the system is wired with Arkaos Mediamaster Express and two Elation EVC MH Moving head video cameras, making it totally equipped for further (planned) video upgrades. Already in place are sixteen of the ADJ Flat Par QW12s and these currently light the stage area. But once the EVC MH DMX-controlled moving cameras are installed, a new dimension will be added to the venue; allowing for public speakers, bands and other events. Not only will speakers and performers be illuminated, they will be videoed too, with live text and effects added via the Mediamaster. Meanwhile, all this will be projected and fed to the in-house TV system for cross-venue coverage.
While the roller-rink was the main feature of the installation, ADJ fixtures can be found venue-wide. For instance, in the bowling alley, ten Double-Phase LEDs are set to 'bowl' lights right down the alley. Cee-Reel Concepts installed one light per lane, creating a neat effect as the lights chase your bowling ball as it hurtles towards your first strike (or at least a spare, right?).
One of our favorite – and most impressive – parts of the installation was the modern take on a giant classic disco ball. Rolling Entertainment really thought this through, and with ninety-six beams of light emanating from twelve cleverly-arranged Octobeam RGBW fixtures, mesmerizing chasing and color effects are created. It seems putting twelve fixtures together was a genius move by Rolling Entertainment – they certainly do the trick!
"It's always great to extend the reach of the ADJ family and see a project through from start to finish." said, Alfred Gonzales, national sales manager of ADJ USA. "Hearing about the work and successful collaborations between our ADJ dealers, representatives and customers means a lot to us, and we really appreciate the work you put into making exciting projects like Rigby's Entertainment complex happen. It just goes to show that when you combine effective teamwork, leading-edge products, and a unique vision, anything can happen – giant disco balls included!"