ADJ Turns Up the Heat in Miami
Miami Velvet is a nightclub as stylish as its name sounds. Which is why, when tasked with installing an atmospheric, attention-grabbing lightshow, resident LD Pawel Roguszczak chose from ADJ Group's flexible range to create something truly special.
Tucked away just off Miami's Palmetto Expressway, Miami Velvet is a first-class club with a South Beach feel and an exclusive members-only list of classy clientele to match. Hosting a range of nights and with visitors varying in age, from twenties to late forties, the club really needed a lightshow versatile enough to work for any event and eye-catching enough to please the crowds.
clubTech, LLC's Pawel Roguszczak, lighting designer for Miami Velvet, was assigned the task of making the magic happen. So, for the install, he chose pure lighting excitement; employing a range of ADJ and Elation Professional products, including 11 Inno Color Beam Quad 7s, three Flat Par Tri 7s and loads of Elation Flex Pixel WP tape.
Mounted above the dance-floor, the Inno Color Beam Quad 7s generate hard-edge color beams that cut through the darkness and sweep across the club. The fixtures' flexible movement, enabled by 540-degree pan and 200-degree tilt, and precise positioning made possible by stepper motors with micro-stepping, allow for impressive effects all across the dance-floor. Equipped with seven 10W quad-color CREE LEDs and a 10-degree beam angle, the Inno Color Beam Quad 7s create powerful, sharp beams, allowing Pawel to fill the venue with color and movement. Their compact size and wide coverage also makes them the ideal fixture choice for Miami Velvet due to its low ceilings and space limitations. "We used Inno Beam 7s, as they're perfect for low ceilings," says Pawel. "The effects are great – people love it!"
In order to complement the Inno Color Beam Quad 7s, Pawel shaped the Elation Flex Pixel tape into an eye shape that overlooks the dance-floor from the ceiling above. Using pixel-mapping, he has programed the tape to create a variety of effects; whether it's firing shooting stars outwards from the center or sending entire bars of light spiraling at different speeds. No matter how Pawel uses it, the tape creates a truly eye-catching lightshow for guests on the dance-floor.
"The pixel tape is great," he explains. "It's a very affordable product for the effect that it produces. It's easy to install; easy to map. It's just the perfect solution for the type of application that we were looking for."
Also used in the revamp of Miami Velvet was the Flat Par Tri 7, an ultra-slim par can that utilizes seven 3W tri-color LEDs. With its capacity for smooth RGB color mixing and a wide 40-degree beam angle, the Flat Par Tri 7 was the ideal choice for flooding the dance-floor while guests party beneath the attention-grabbing effects of the Elation Flex Pixel tape. Pawel utilized three, allowing him to generate far-reaching washes of vibrant lighting that creates an intense sensory experience for those on the dance-floor.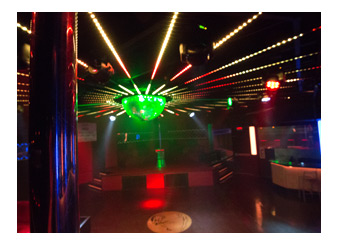 With Miami Velvet offering an array of club nights, often with different themes, it was essential that the ADJ Group fixtures chosen by Pawel could create a range of colors and also be capable of providing both ambient mood lighting and an energetic party atmosphere. Living up to this requirement, the Flat Par Tri 7 features 32 built-in color macros, while its color strobe effect means that Pawel can put the party in overdrive whenever it's required.
With a flexible ADJ lightshow now in place, Miami Velvet is a club reborn; a stand-out venue for professionals looking to lose their inhibitions on the dance-floor. And, with themed nights throughout the year, Pawel can utilize the versatility of our Inno Color Beam Quad 7s and Flat Par Tri 7s, and the creative scope offered by the Elation Flex Pixel tape, to generate a unique, event-specific lightshow that brings pure lighting excitement to the dance-floor and beyond.
Venue: Miami Velvet, Miami, Florida
Lighting Designer: Pawel Roguszczak, clubTech, LLC (http://clubtechllc.com)

Photo & Video: Arnoldo Offermann
Gear List:
11x ADJ Inno Color Beam Quad 7
3x ADJ Flat PAR Tri 7
33x Elation Professional Flex Pixel WP
17x Elation Professional Flex Pixel Driver
2x Elation Professional Enode8
4x Elation Professional EPAR Tri